•
On the Chesapeake:
Historical cruise sights include the Chesapeake Bay Bridge near Annapolis, Thomas Point Lighthouse, Bloody Point Lighthouse. Cruises will also take in the diverse wildlife on the bay from the blue crab to the osprey and blue heron. Cruises will also visit a local river to relax and enjoy a meal at some of the best places to tie up to along the Bay. Fishing Charters will take place out of Herrington Harbor aboard and cater to the Chesapeake Bay just south of Deale, MD.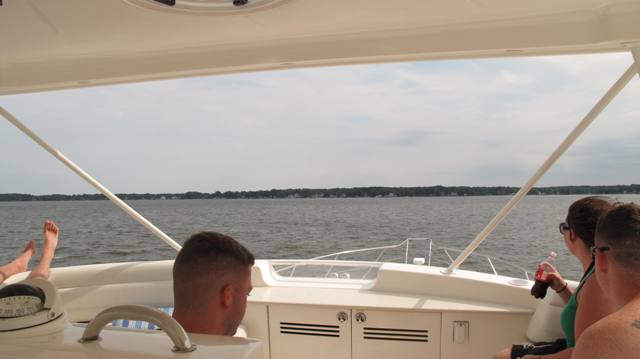 On the Potomac:
Historical cruise sights will include the National Harbor, Mt. Vernon, Georgetown and the monuments of Washington D.C. We will anchor along the river to enjoy relaxing fishing on the Potomac. Cruises will also visit a local dock to enjoy a great meal brought to the vessel.
Season and Service
updated June 25, 2011

Season: Charter for Veterans provides an operating season from Mid April to early October. Our 2011 goal is to conduct 5 cruises serving 25 wounded veterans.

Service: Our service consists of a customized charter based off a group of veterans or an individual veterans needs. Transportation to and from the Marina takes about an hour depending on place of origin from military hospitals. A 4-6 hour outing is provided in between.